Type of contact
---
---
Disconnectable contacts are an indispensable part of switching appliances. According to their different structures, they can be divided into the following types:
(1) Knife contact: It has a simple structure and is divided into surface contact and line contact. It is widely used in low-voltage switches and high-voltage disconnectors.
(2) Butt joint contact: It has the characteristics of simple structure and fast action, but the contact surface is unstable and varies greatly with the pressure. It is easy to rebound during operation, without self-cleaning effect, and the contact is easy to be burned by electric arc. This contact is usually used for distribution circuit breakers with rated currents below 1000 A and below 500 A
(3) Wedge contact: it consists of a pair of contact pieces and wedge contact pieces, which are pressed and fitted on the conductive seat through the stud sleeve spring. Generally, the wedge contact is used as the moving contact, but there are also contacts clamped on the conductive seat, and the wedge contact is used as the static contact in turn. This kind of contact rubs against each other when moving contact and static contact contact, and the contact surface can be cleaned automatically.
(4) Plug in contact: static contact consists of multiple trapezoidal contact fingers. It is divided into flexible conductive sheet and non flexible conductive sheet. For the socket with flexible conductive sheet, the contact finger is provided with a groove, the groove is embedded with an insulating sleeve, and a coil spring is placed to ensure the pressure of the contact finger on the conductive rod.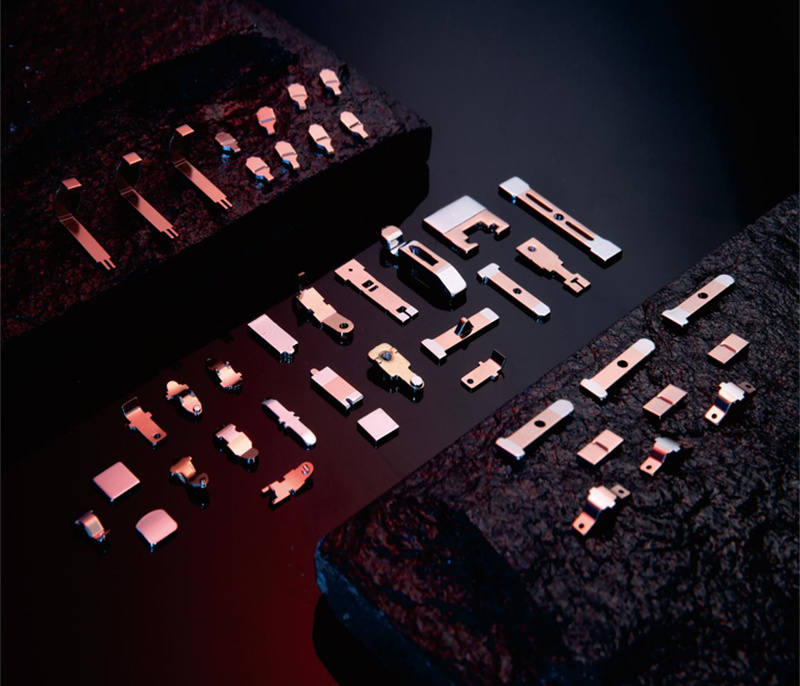 (5) Z-contact finger type sliding contact: similar to socket type contact in structure. It is formed by installing the Z-shaped contact finger in the conductive seat, keeping the position of the contact finger through the spring, and pressing both sides of the contact finger against the guide rod and the conductive seat respectively. Its advantages are: small height, simple assembly, no conductive sheet, stable contact, self cleaning function, so it is widely used.
(6) Rolling sliding contact: the moving contact is a circular conductive rod, and the fixed contact is composed of two circular conductive rod seats and a pair of red copper rollers installed between the conductive rod and the conductive seat. The spring is installed on both sides of the roller, and the contact between the roller and the conductive rod, the roller and the conductive seat is maintained by the pressure of the spring.
---